NEWS
You are here :
Holiday Packages
1 Day Bike and Wine Tour in Cote de Beaune
From 139 € per person
Wines tasting and fun ! Our Burgundy bike tour takes you on a breathtaking experience throughout the Côte de Beaune and Hautes-Côtes with vineyards, villages and fields. Touristics viewpoints, smells and sounds to enjoy a scenic downhill before « Montrachet Grand Cru ». We assure unforgettable memories and great pictures !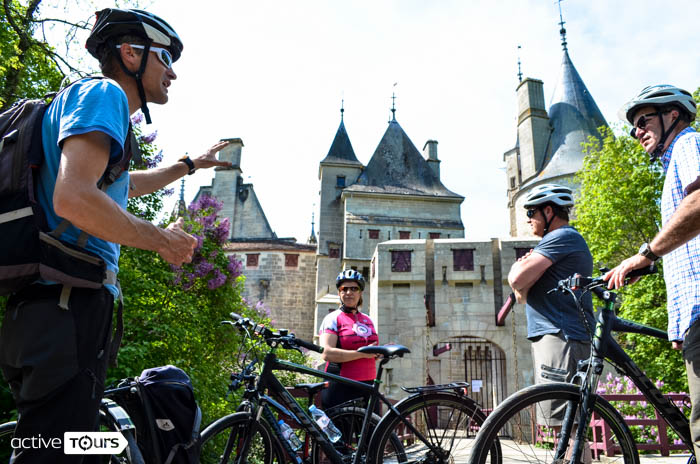 Validity period :
From 01/03/2015 to 31/12/2020
Contact :
Bike & Wine Tours
17, avenue du Parc
21200 BEAUNE
Email :
info@active-tours.fr
Site web :
http://www.bourgogne-evasion.fr
Offer Description :
Biking across the vineyards, discover small and typicals villages as Pommard, Volnay, Meursault, Puligny-Montrachet, Saint-Romain,
Tasting wine in the vineyard,
Visit of La Rochepot castle or another castle in Chassagne-Montrachet with 4 wines tasting included,
Enjoy a lunch at a restaurant in Puligny Montrachet,
Discover « Les Climats de Bourgogne« , a unique World Heritage site in the world with a guide,
Meet local producers and learn about terroir and locals specifities.
One day cycling tour takes you into the vineyards of the Côte de Beaune. After a short briefing about how to use the bicycle and adjust your helmet, we'll ride in the heart of Burgundy wines region. You will approach here our culture.
Along the way, we propose a wine tasting in the vineyard which is a good opportunity to explain the differents types of wines in Burgundy. You'll understand and learn about the grappe varieties to associate a taste, about the soil and why Burgundy wines are so unique and exceptionnal !
After lunch, the trip continue on an easy cycle path and get across famous wines villages.
A local winemaker will welcome you in his winery for a visit of his stone cellar followed by a tasting of at least 4 wines. If you desire you will be able to buy some bottles. The winemaker can deliver your order directly where you want.
Finally, from Pommard, we'll go back to Beaune by bus at the visitor center.
Your guide is here to take care and help you, for your needs or all questions.
Prices :
138E/pers
Included in the price :
Bike rental Helmet Transfer to the hill top for Briefing and departure Visit of La Rochepot castle or another castle in Chassagne with 4 wines tasting Lunch in restaurant English speaking guide Visit and wines tasting in a local winery in Pommard Transfer from Pommard to Beaune at the end of the tour. Minimum 9 wines tasting during the day
Not included in the price :
Water Bottle for bike ride Wines and drinks during lunch
Transport :
The tour start with the van, so we can start the tour with it and then ride if conditions are better.
Practical information :
Payment :
American Express, Credit card, Payment cards, Cheques and postal orders, Holiday vouchers, Cash, Paypal, Bank transfers, Visa
Languages :

|

|

|